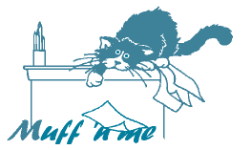 Muffy has a record.
I guess it had to happen someday. She gets crammed into a small box, carted off to a strange place, to sit in a room full of dogs. She's a furry ball of panic on four legs.
The last time we visited the Vet was like all the others except that the Vet was in a hurry and didn't wait for gravity to work. The carrier was upside down, but Muff had yet to fall out. She reached up to pull her out and Muffy bit her. Hard. There was no warning hiss. The terrified animal just attacked with all her weapons.
The Vet knew that the mistake was hers—Muff was only acting on instinct, but it was bad enough to need to be reported. We received several calls from Animal Control to discuss it and remind Muffy and I to make a return visit 10 days later to prove that all involved were still alive.
I've been thinking about it since.
I can act on instinct, too. Attack when I've been attacked. Hurt when I've been hurt. Not to mention things like selfishness, greed, impatience — there's a long list of reactions that are pure instinct. And, like Muffy's, they all make a situation worse.
You used to walk in these ways, in the life you once lived. But now you must rid yourselves of all such things as these: anger, rage, malice, slander, and filthy language from your lips. Do not lie to each other, since you have taken off your old self with its practices and have put on the new self, which is being renewed in knowledge in the image of its Creator. (Col 3:7-10)
Muffy did the only thing she knew to do. But I am being made like my Father. I can seek His help and trust in His Spirit's guidance. I have all the resources of heaven waiting to support me when I seek to reflect Jesus Christ in a situation.
I can act on instinct or stop and choose another way. I can wear the same old stuff or put on a new self. It all hinges on choice.