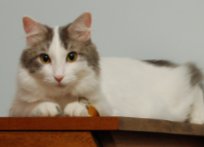 After Muffy died we both started praying. We wanted another cat and prayed for some things in particular. Some of the things on the list:
a cat who had no home
a sweet cat
one who always used the litter box and didn't attack us  (like Muff did sometimes)
one who adopted us (hard to discribe but we prayed that we'd know it when it happened)
Anyway, we planned to go to the SPCA and see. Each time we made plans to go something came up to change the plan. So we just kept praying.
When the day finally came, we set off for the SPCA. I had seen a kitty online named Miracle that caught my heart. So we asked for her.
She wasn't there. She had been adopted.
So, we looked at all the others and saw a tuxedo cat (like Muff) named Samatha. We went to lunch to talk about it.
When we got back to adopt her we found out she had been adopted, too.
We had to start over. The volunteer showed us a number of sweet cats. But they didn't seem to click.
Then I saw Lilly. She was younger than I was looking for and was a long hair kitty – also not what I thot I wanted.
But I picked her up and she looked me right in the eye. She was so scared she was shivering, but she looked at me as tho she trusted me.
I put her back in her cage and looked around some more. But I had to go back and hold her again.
This time she didn't just look into my eyes, she relaxed and rubbed her head against my chin. I was hooked.
Since we've had her home, God's hand has been even more evident. She is the most sweet, loving cat I've ever met. She was comfortable with us from the very first. But the most amazing thing to us – she was only put in the adoption room that day.
That's why we had to wait. God's plans are always good!