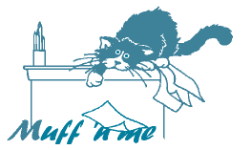 It's like a Jaws movie. The sound from a distance, getting closer and closer. Bum-Bum. Bum-Bum. Bum-Bum. Until, BOOM, the four running kitty feet land on my stomach and a few well chosen meows tell me that the food dish is empty.
Depending on when the dish gets emptied, this can happen several times during the night. And Muffy is careful to vary her request, in case one will work better than another. Sometimes urgent. Sometimes pitiful. Always insistent.
I read recently that a cat always thinks like a predator. No matter what kind of life they have lived or for how long, a predator never assumes that food will appear today just because it appeared yesterday. They do what they think they have to do to survive—even in the middle of the night.
When I think about it, I operate that way a lot of the time. I find myself running around, worried, moaning and groaning. Varying my appeals. Assuming the worst. Even though I have the promises of my heavenly Father. He says over and over again that He will be with me and care for me today. Just like yesterday.
But how do I stop the "predator" thinking? By talking to myself. Reminding me of promises already kept and miracles already seen.
As I look back at one year and forward to another, I remember the good things that God has done. And there really is no need to wonder about His care. His promises are "yes" in Christ—
and new every morning.
"For no matter how many promises God has made, they are 'Yes' in Christ." (2 Cor 1:20)