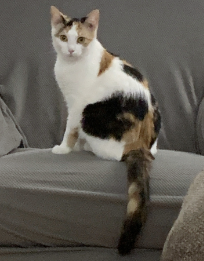 Kaylee was my birthday present in 2020. Just before the world came to a stop with Covid 19.
Lilly died so suddenly, we were both in shock. It felt like even the house was hurting. Within a few weeks we needed to find another purrson to love.
We went to a foster home and found a boy. We had to wait for him to get over a cold then brought him home. Within days we knew it wasn't going to work and took him back to his foster mom. More hurt.
We went to four or five adoption places and had almost given up. We decided to try one more place and then we would take a break.
There in one cage was a calico kitten curled up in a cubby. The attendant tried to get her out. Glenn tried to get her out. She wouldn't budge. Finally, I looked her in the eye, held out my hands and said "Wanna come see me?"
She did!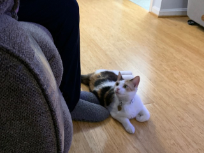 Her paperwork said that she had been in two rescues in her short 10 months. Last Chance Animal Rescue was her last. They save animals from high kill shelters. Her first vet visit we found out she needed a second ear mite treatment. She also had an upper respiratory infection and parasites. The poor baby was miserable! Then came the two weeks of two different meds. The first thing we learned about her? She is very forgiving!
As she began to feel better, we found that she is really sweet. She's playful, and has wonderful kitty manners. And the cutest little squeaks – not a meow in sight. We also found that she couldn't jump. When she wanted to get up on something, she would pace and cry. I've been using some toys with her to exercise her jump muscles – now she goes wherever she wants.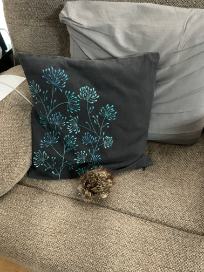 Lilly loved my hedgehog finger puppet. She kept stealing it and hiding it. I finally let her have it. Kaylee loves it, too. I have to laugh when she carries it around – it's almost as big as her head. I don't know how she gets her mouth around it. Almost every night she gifts me with it – I find it by the bed or in my chair.
We have ourselves another sweetheart!