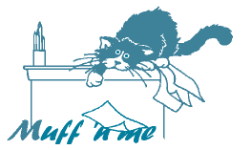 I've been thinking about compassion and caring lately. Some of you know that I was really upset recently. I lost "the family diamond" (Those words should be read with one of those really deep echoing voices). It had been passed down through several generations. And I had been carrying the responsibility for the family history since I was 14 years old. Then one day I looked down at the ring and a prong was bent and the stone was gone. We looked everywhere no stone. The tears just didn't stop for a while and every time I thought about it again they would start all over!
Muffy was very concerned. It's really interesting to think back on her response. I have read that cats do some of their communicating with their eyes — having them half closed, open, pupils dilated, all mean something in "cat". Muffy does seem to need to look people in the eye and when she couldn't do that she kept trying to get closer to my face to be able to see she kept tapping me with her paw so that I would look at her. When that didn't work she started climbing on the nearby furniture to get closer. She did get my attention when she started climbing my leg!
Then all she seemed to want was to be close. She just stayed close and purred and kept looking me in the eye. And, even more amazing, her closeness and concern made a difference.
My kitty gave me a good example of how people can console each other, too. There are times when we don't need the right answers or the right advice yet. What we need right now is someone to be with us and caring and maybe crying with us.
So, when a friend is hurting, remember my kitty, don't stay away because you don't have the "right thing to say" sometimes just being with them so they aren't alone is saying the right thing;